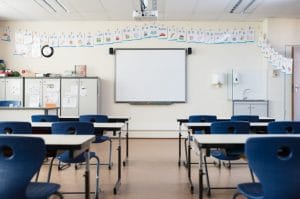 Here at Universal, we have many years of experience working within the education sector, including schools, college and universities. Whether you are a small nursery school, an academy, state or private school, or even as large as a university campus, we have experience working with the full spectrum of educational institutions and are sure to be able to lend a helping hand. We have had experience delivering our service to well-respected Universities and Business Schools, as well as world-renowned research facilities, providing essential assistance for both internal and external relocations.
Our Priority 
We know that relocations within education establishments can be especially trying for those being moved, so our priority is making sure there is minimal disruption to lecturers, college staff, students and administrative staff. Removals and relocation are often a necessary evil, creating stress and impacting on established routines that remain particularly important within an education environment. We try our very best to meet everyone's needs and to minimise the amount of downtime resulting from any moves.  We aim to make sure everyone is considered, from lecturers, researchers, postgrads, teaching staff and support staff to the students themselves. Our team are also all DBS-checked and security vetted, which we know is vital when working within educational establishments.
Types of Relocation 
At Universal, we can cover a range of different types of relocation, including internal office, team, or departmental relocations, to library moves and lab moves, whether internal on campus moving to completely different buildings or moves off campus.
The moves of education organisations can be extremely complex removal projects, particularly as they may not have been undertaken for some time within the school or college, and those within the organisation who may have been given responsibility for the move may be unfamiliar with large scale moves. It is extremely important to take care when planning such moves, particularly as there may be many components, groups and individuals within the building or campus, with different and potentially conflicting needs. You may require the relocation of furniture, IT, expensive and sensitive lab equipment or even chemicals in school or university laboratories, as well as other specialist equipment, not to mention miles of filing and mountains of books.
Bespoke Service 
We offer a bespoke service when it comes to school, college and university relocation, because we know that no two jobs are the same. To get a clear picture of your specific requirements, we are able to create a bespoke relocation project plan for your move from the simplest to the most complex of jobs. We will carry out your bespoke plan with the utmost professionalism, making sure we make your move as efficient as possible, so that the plans can be carried out in a timely fashion, with the minimum of downtime and ensuring staff are fully-engaged throughout the process and morale remains high. We can also help with safe and secure storage facilities, if required, and crate hire for your  files, books, IT, computers, equipment and more.  We can also help dispose of unwanted equipment, documents, CDs, DVDs and hard drives, offering environmental clearance and recycling of unwanted furniture. We can also help to maintain your workflow, by considering the implementation of IT and communications infrastructure relocation, so that your IT systems that are heavily relied upon are up and running as soon as possible. 
Contact Us
If you would like more information about  school, college and university relocation, or any of our other storage or secure document storage and destruction, services please visit our website, or contact us today to speak to our team. We would be happy to discuss your relocation requirements and allay any concerns you may have regarding your churn, move storage or relocation requirements.