The COVID-19 pandemic continues to have a major impact on many businesses in the UK today, even as workers start returning to their offices. As many employees in various sectors continue to work from home for at least two to three days a week, the existing capacity of office space is likely to increase by as much as 40%, according to a KPMG report. No doubt the services of office relocation specialists will be in high demand as they work with companies moving to smaller spaces or redesigning existing offices to take advantage of the space available. When considering relocation or changes within an existing premises, businesses are advised to work with trusted office relocation experts to ensure a safe and seamless transition.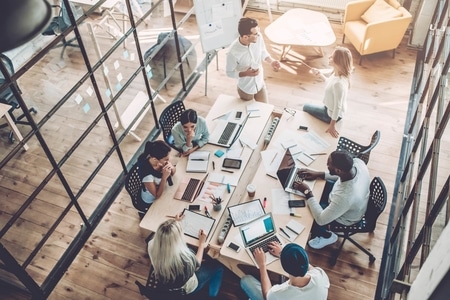 According to the new KPMG report, "New working patterns and the transformation of UK business landscape", the extra available office space is expected to trigger a boost in employment. Various cities are likely to see employment growth of anything between 5% and 10%. Central London and other smaller cities and towns are also predicted to benefit, as these locations will tend to have more people working partially from home rather than in the office.
However, there may be some adverse effects as well. Areas where business occupation of real estate is less dense may actually see a decline in employment. In these scenarios, there's a likelihood that office space may need to be converted for retail, leisure, and residential use.
The Department of Health and Social Care (DHSC) has backtracked on its previously announced plans to expect its civil servants to return to the office in September. Staff were supposed to commute to work for between four and eight days a month in the light of the Government's decision to drop its work from home edict from 19th July. However, that's been shelved for the time being in the light of rising COVID case numbers across the UK, although the phased return is still expected in the future.
Other government departments have taken different approaches, meaning Government sources say that there have been huge fluctuations in office numbers. In some workplaces, office space is at a premium.
Aside from following health protocols, moving back from the home office to the physical office will require other factors. Moves should be made by trusted office relocation specialists so that the equipment will be safe during transport.
Anyone who uses office systems should also have their computers checked for any malware so that the safety of the data will be ensured. There are also other precautions to be taken to make the transition to be seamless and safe.
Getting Back to the Office: Your Rights According to Experts
As offices reopen, employment lawyer Matt Gingell says that employers are not automatically obliged to offer staff flexible working arrangements unless this is already written into their contracts.
Employees are certainly entitled to request to work from home on a permanent basis, but there's no requirement for employers to agree to these terms. Employers need to be able to demonstrate there is a permitted business reason for insisting on staff's presence in the office.
If you want to apply to work from home, you must have at least 26 weeks of service, and you can only make your request once every 12 months. Valid reasons employers can give if they turn down this request is that the cost would outweigh the benefit and the effects of the decision on the performance of the employee.
Another expert claims that both parties should be open and able to talk to one another about the issue. Both the business and employees have requirements that need to be met, so a degree of care and consideration on either side is essential.
Another issue in the news related to future working from home arrangements is the proposal by some companies to cut the salaries of employees who choose to take advantage of flexible working arrangements. Because new working patterns may have allowed you to move to an area with lower housing costs or to save money by not commuting, some companies may choose to try and reduce wages for staff formerly based in cities with expensive offices.
However, Kathryn Barnes, Globalization Partners' employment counsel for Europe, the Middle East and Africa, said that if the cut is made without the employee's consent or you are not paid in line with the terms of your employment contract or the custom or practice of law, the employer could well be exposing themselves to a legal challenge.
UK employers, other than care home owners, also cannot demand that employees are vaccinated. They can encourage it, but currently, this is not mandated under the law; nor can hiring and firing decisions be based on an individual's vaccine records.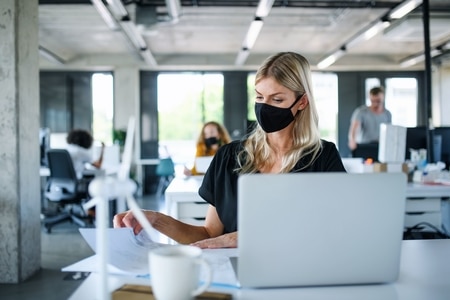 If employees have safety concerns that other colleagues are unvaccinated, they can ask for changes to their working environment or seek to work remotely. But no person's right outweighs another person's decision as to whether to be vaccinated or not; and neither employees nor co-workers have the right to insist that their workmates are vaccinated.
The Chartered Institute of Personnel and Development suggests that employers should take all necessary steps to give workers a sense of security and confidence that their office is safe from the transmission of the virus.
If a request to work remotely is because a worker is vulnerable or is living with someone who is, your employer should accept the arrangement if the decision to shield is on medical grounds. However, if an individual is shielding out of personal choice, the employer can request your return to office working.
An employee suffering from poor health also has the right to request to work from home, but has no absolute right for the request to be granted.
It seems likely that there will follow a great deal of uncertainty in office arrangements for the foreseeable future as the pandemic and the changes it has brought about continue to unfurl. Many businesses may already be looking to downsize or move to cheaper premises as economic pressures and changes to the workforce add up. If you are in such a situation, it's essential you hire in professional help for any move you plan to undertake.
Professional Office Relocation Services
Moving offices is a great responsibility, not least because valuable company equipment must be handled with care and downtime minimised. Universal Commercial Relocation – Office Relocation London are professionals who can help any business deal with the demands of a tedious office relocation. We are highly experienced in all aspects of office relocation, and our expertise is guaranteed to give you peace of mind, knowing that your equipment is in safe hands.
We follow all current health and safety protocols, including those related to COVID-19, and will ensure your items are safe and secure when they are transported. Visit our homepage today to see what we can do for you.