Though it sounds fairly simple, office relocation in London is actually quite complicated. It requires a good deal of time, planning and resources, and it's unlikely that one person alone can handle everything that needs to be done. Good preparation is essential, and if you want the move to run smoothly and without incident, hiring a company that's experienced in office relocation is a must.
To make sure you're hiring the best quality of service, it helps to understand that there should be multiple parts to the process. To begin with, you should expect a good removals firm to carry out a moving inventory. The service provider should visit your premises and survey everything that needs to be moved during the relocation process.
Don't settle for a company that takes your best guess over the phone or is prepared to quote based on a written list of what needs moving. A face-to-face visit to determine the weight and volume of equipment and other items that need to be moved is the only way to get an accurate price estimate and timescale for your relocation.
It's worth observing how the estimator representing the company works. A quick walk through the property without paying much attention to the details is useless. An effective estimator asks questions and goes through your storage needs. This helps them develop an understanding of the full scope of the move by quantifying how much space the goods will take up and how heavy it all is.
Before making an appointment for the survey, you should also have done some preparation. All your items should be properly categorised, with anything that's due to be given away, donated or otherwise disposed of separated from what you intend to take to your new office. This helps make the process shorter and quicker for everyone involved.
When looking at the many firms offering office relocation, check on the company's details. Make sure they have a local physical address and clear methods of communication so you can get in touch with them quickly at any time during the moving process.
You should also ask about their levels of insurance, so you know you and they are covered if your property is damaged or anything else untoward happens during the course of the move. They should be able to demonstrate that they have at least public liability insurance and goods in transit insurance to protect your possessions. Check that they are licensed with the local authority if they will be undertaking any waste clearance services on your behalf; and make sure that the company hasn't recently been operating under a different name.
To make sure you're finding the best moving company London has to offer for your own requirements, read reviews about the company online. People are becoming increasingly comfortable in sharing their experiences of working with firms on the Internet. A quick search online can give you a good amount of insight into how the business operates and deals with its clients.
If the service provider asks for a deposit, especially if that's a significant proportion of the final bill, then you should probably start thinking twice. A reputable moving company won't ask for a large sum of money upfront, and full payment should only be made on completion of the job. If possible, pay using your credit card to lessen the possibilities of fraud.
You should agree to a fully itemised contract with your service provider, which lists the inventory and all fees they are charging for the move. This should also include a timeframe within which you will check the goods that have been moved and confirm them to be intact, with no damage or loss; and issue them with a receipt of acknowledgement.
If you are planning to move your office to a new location, why not speak to the team at UCR? We have been in the business for over four decades and have developed a series of procedures and processes to ensure that moves of all types are carried out quickly, efficiently and safely. We offer a range of services and solutions to accommodate all your office relocation needs.
Because we have been awarded the title of Commercial Mover of the Year in 2015, 2017, and 2019 by the British Association of Removers, you have the assurance and security that you need with us at Universal Commercial Relocation.
Get a quote from our professional team by calling 0208 575 1133 or emailing us at info@ucr.uk.com. You can also learn more about the services we offer at https://www.ucr.uk.com/. Whether you are in the early stages of planning your move, are about to relocate your office or need help with the project and change management, we are here and ready to support you at every step of the way. All you need to do is get in touch with us for expert help.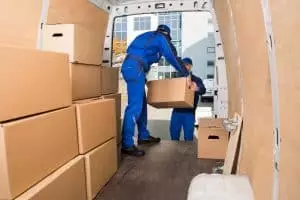 FREQUENTLY ASKED QUESTIONS
How do you move an office?
1. Set up the project.
2. Organise all your key documents.
3. Inform all stakeholders and employees about the office relocation.
4. List all office items and what's to be taken and disposed of during the move.
5. Hire a company skilled in office relocations in London and developing a moving plan with them.
How much do removal companies cost in the UK?
There's no average figure for the cost of an office moving company in London. It depends on the size of your business, the volume of goods to be moved and the distance between locations. Request fully itemised quotes from three or more service providers so you can see what's included and what's not; and compare prices from different providers.
How far in advance should you schedule movers?
The sooner you schedule your office relocation company, the better. The best companies get booked up early, so hire your movers at least two months before your desired moving date. That way, you'll be able to pick the best office removal company in London for your requirements. The later you leave it, the more likely you'll be settling for second-best.
What should you know before hiring movers?
Whether you need to hire large or small office movers:
• Be aware of rogue moving firms.
• Ask for recommendations for moving companies from your network.
• Check your prospective movers' online reviews and track record.
• Ask about their licenses, levels of insurance, experience and storage facilities if needed.
• Request a quote and check they're transparent about their fees.
How fast do movers work?
Again, the time it takes for an office removal in London can vary depending on the size of the company and the volume of goods to be transported. As a rough guide, a small office with up to 20 employees can be moved in a day. The largest jobs usually take three or four days.
A Guide To Office Moving Packing
1. Start your office relocation as soon as possible to reduce the stress of the move.
2. Buy proper packing materials to keep your things organised and safe.
3. Donate office items no longer needed to charity, making the move easier and cheaper.
4. Label every box and parcel so you can keep track of them and quickly locate them when you arrive.
5. Pack your computers and their cables properly to keep them safe.
6. Hire professional, insured removals firms to ensure your office furniture and boxes are moved safely and without damage.
Things You Need To Do When Moving an Office
1. Schedule your move over weekends to avoid a loss of productivity. Book your removals firm early to get the right firm for your needs.
2. Develop a space plan and a blueprint to visualise what your new 'home' will look like.
3. Set a realistic budget for your office relocation, especially if it's a long-distance move.
4. Hire a dedicated move manager and keep all stakeholders informed and coordinated.
5. Consider buying new furniture for your new office to mark the change.
How To Support Employees During An Office Relocation
Moving offices can be exciting but also daunting for employees. Do these things to help staff cope with the transition:
1. Communicate and consult with them as much as possible throughout, emphasising the positive aspects of the move and keeping nothing secret.
2. Have one-to-ones with each staff member to find out if they have particular concerns, like difficulty commuting to the new office. Try to find solutions such as flexible working.
3. Allow staff to visit the new area and premises beforehand so they can become familiar in advance with how things will change. This can help create buy-in.
4. Consider morale-boosting additions as incentives, such as a new coffee machine or better kitchen facilities.
5. Ensure all staff know what's expected of them, like packing their belongings, backing up work and informing clients of the move.
6. Plan an office-warming party when the move is complete!
If you need an experienced, professional firm for removals to ensure your office move runs smoothly and efficiently, contact the team at Universal Commercial Relocation – Office Relocation London today.