If you're planning on moving your office to new premises in the near future, don't forget to leave plenty of time to book office furniture relocation services. Moving office premises can cause a whole host of headaches for you and your employees. It can be highly stressful arranging for everything to be disconnected, dismantled, and transported, from your office furniture and equipment, PCs, and printers to stationery, stacks of paperwork, and other materials. And even then, your office relocation is not complete until everything's not only in its new location but is also set up and back up and running. And that can mean your business is effectively on hold for the duration of the move.
Smaller office set-ups especially may think they can save money by carrying out the move themselves, but this could well be a false economy. Hiring a reliable and reputable relocation company will ensure the move is carried out quickly, efficiently and safely, getting your business back up and running in no time.
Here, we look at the various benefits to be had from hiring expert removal services.
1. An expert removal company has the appropriate resources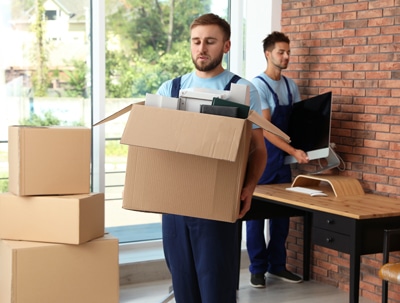 If you plan on moving everything in your office yourself, one thing you'll have to calculate is how long the move will take so you can let customers know when your services might not be available. Another is the size of van you'll need to accommodate all the furniture like desks and chairs, sofas, plants, and other equipment you need to take. Without experience, these kinds of issues can be tricky.
But a firm specialising in office relocations will be able to tell you as part of their quotation for the work how long they expect the move to take. They'll also have access to the right-sized transport, as well as all the necessary manpower, to move all your stuff as quickly and efficiently as possible.
What's more, a professional office relocation company will do all the heavy lifting, bringing everything from your old location to the new one, including disassembling and reassembling all furniture. That means you and your staff won't have to get your hands dirty. There's also far less risk of personal injury or damage to your office equipment with a team that has been trained in manual handling and is experienced in heavy lifting.
2. A professional relocation company offers efficient packing and unpacking
Inefficient packing takes up more space in the moving van, which can mean more trips are necessary, prolonging the move when it doesn't need to be. What's more, items that aren't packed properly in the first place are more liable to become damaged while in transit, and that can become expensive. Even if you're covered by specialist insurance (which you won't ordinarily be unless you inform your insurer you're moving and possibly pay an additional sum), any claim can cause delays in getting your office back up and running again and can mean higher premiums in future.
Professional office relocation companies are experienced in packing and moving all common office items, furniture, and equipment, from filing cabinets to stacks of documents, copiers and printers. They can package and protect everything efficiently to make sure it will all be safe during its transportation to your new location.
3. An experienced removal company can ultimately save you money
As indicated, professional office relocation can save you money simply because the move will be carried out quicker, therefore resulting in less downtime for your business. An office relocation service doesn't just provide the means to transport your office items from one place to another. They will also work with you to make sure that the whole project runs smoothly from start to finish. And if everything goes according to the plan, you can resume normal operations faster.
Professional moving firms will carry full insurance to cover you and them in the unlikely event that any of your office items are damaged in transit. And your staff will be less likely to injure themselves if they aren't involved in the lifting and shifting, so you could save on the cost of them having time off work to recover or even an expensive claim for compensation.
Moving from one office location to another, or indeed internal moves within one facility, has never been easier than with Universal Commercial Relocation – Office Relocation London. We provide exceptional business relocation services, whatever your requirement and premises, be it an office, business, educational, warehouse or indeed any commercial relocation. We have over 40 years of experience in the moving industry and have helped a large number of businesses in the London area with their relocation. Whether you operate a small office or occupy an entire floor, or even a building, we can help you with your relocation.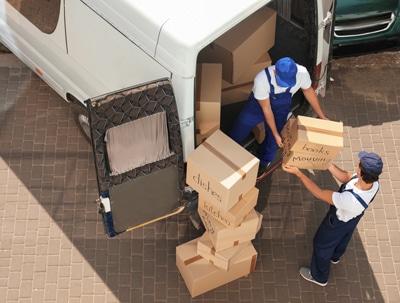 Our office relocation specialists will assist you at every stage, from planning to execution and final sign-off, to make sure that everything goes smoothly. We provide a customised service for businesses and office locations that have particular needs. To learn more about the full range of services we offer, you can contact us using the online contact form on this website to get started. You can also give us a call on 0208 575 1133 with any questions and enquiries or write to us by email at info@ucr.uk.com.
FREQUENTLY ASKED QUESTIONS
How much does it cost to move an office in the UK?
You should budget between £1,000 and £10,000 for office furniture moving services. However, note that prices will vary depending on your company's size and location; and the services you want to have included. It's a good idea to get a few quotes and compare and contrast services and prices before deciding on which company to go with. The cheapest won't necessarily be the best.
How do you move office furniture?
Preparation for this is time-consuming and requires special attention. Furniture should be emptied and dismantled. Fixtures and fittings must be kept safe and items protected with coverings or other packaging material to prevent damage. Care must be taken when lifting as furniture is heavy. The best way to move office furniture is to hire trained professionals.
How do you organise an office move?
When planning an office relocation, keep all plans and paperwork in one place. Organise important office papers and announce the relocation. Consult with your staff and keep them informed throughout. Create a budget and purchasing process and hire your removal firm as soon as is practical. Declutter as much as possible, so you're left only with what needs moving.
What should a business consider when relocating?
Employees and stakeholders may be affected by the process, so manage their concerns. The cost of relocating may be higher than just hiring a removals firm. You'll need to advertise your move widely, for example, and may have to pay staff relocation costs. Rent may also be higher if you're moving in expectation of business growth.
How long does it take to relocate an office?
Planning and moving your business to a new location can take anything from a few months to a year or longer, depending on the size of your operation. Make use of the experience gathered by office equipment removal service providers when planning your move. They can advise you on ways to make your relocation more efficient, which could save you time and therefore money.
Do you pay movers before or after?
You should not normally have to pay a deposit or any other form of upfront payment to a respectable commercial mover. You generally pay when the move is completed, although, as with everything, there may be exceptions to this rule. Make sure there are no nasty surprises by ensuring the quote you've agreed to is fully itemised, meets your requirements and all services you require are priced up from the outset.
Top Tips When Choosing a Furniture Removalist
When it comes to hiring an office furniture relocation service, you should choose the company wisely. One of the things worth checking first is their customer or client list. Is there a list of clients of a similar nature size or reputation to you? Have customers had a positive experience when using their services? Next, ask about the additional services they offer alongside moving furniture and other items. Will they pack your equipment and IT, for instance? Can they reinstall or reconnect it on the other side?
Check whether they have insurance coverage, storage facilities if required, and how they will handle valuable items such as expensive office equipment. Lastly, make sure that both parties are clear with the terms, prices, and payment schedule before signing the contract.
Things to Consider When Choosing the Best Removal Company
When it comes to hiring removal companies, one of the most important aspects to consider is their professionalism – from customer service to carrying out the project. It pays to look for removal companies in your local area too, so logistical planning will be easier.
Assess the level of their insurance coverage and what you can claim for if things go wrong. You need to know this ahead of time so you can arrange your own additional insurance if necessary. Finally, make sure they offer all the packing materials you will need for the office move.
Benefits of Hiring an Office Relocation Expert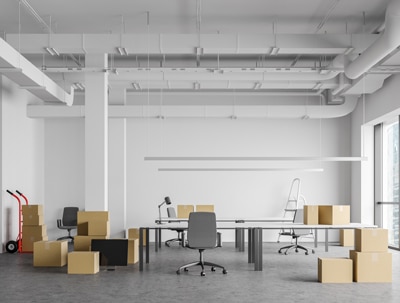 Corporate relocation services can do so much more than simply transporting your office furniture and equipment from A to B. Here are some of the potential benefits of hiring the professionals:
Allows companies and employees to plan for the move as early as possible
Enhances a company's brand image by finding suitable furniture and suggesting a suitable office layout
Creates innovative and out-of-the-box workplace motifs such as open working set-ups, acoustic rooms, enclosed kitchens, and so on
Enables an easier and more convenient transition for employees
Saves on office downtime, therefore enhancing productivity
Reduces the possibility of damaging expensive office equipment
Tips for Choosing the Right Office Removals Company
When looking for office removal companies to hire, the client must have a concrete plan for the move. This eliminates any room for errors, risks, delays, and more. It also allows the removals company to prepare its work schedule too. Seeking referrals from other businesses about removal firms that they've used can help secure a reliable removals team.
Lastly, get a minimum of three quotations from various companies and compare them based on value for money and quality of service.
When it comes to office removals in London and the surrounding area, Universal Commercial Relocation – Office Relocation London is worth checking out! Simply contact us to enquire about our services today.