London is widely considered to be the economic hub of the UK, which makes it natural for many companies to aspire to move to the city. Certain industries in particular know there are many advantages to having a presence in London, but it's not a step to be taken lightly. If you're considering an office relocation in London, here are a few of the factors you should take into account. A wise office relocation can take a business to great heights; a poor decision can bankrupt it, so any business move must be carried out with all due thought and consideration.
The first thing to consider is whether it's necessary at this time for your business to move to London. What are the benefits if you move to the capital, and do they outweigh the current opportunities you have in your current location?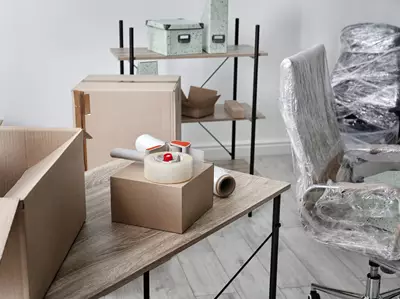 Many entrepreneurs become fixated on having an office in London, believing they'll be better placed to attract new investors and raise their business's profile. However, if there's a chance that the business will suffer because of cashflow problems, for instance, then it's probably better to wait a little longer until it's capable of sustaining the costs of having an office in the capital.
Plan for the future so that you can mitigate or minimise as many risks as possible when moving your office to London. Relocation will represent a considerable investment of your time and money, to say the least; and if you don't carry out sufficient financial planning, then your business and your employees' jobs may be put at risk.
It's not just the high rental prices you need to be able to afford. Before relocating, you have to factor into your budget the costs of your solicitor's fees, for example. Then, the building or office space you are moving to will also likely need financial investment for redecoration and to keep it in step with your branding.
If you rent premises, you might need a hefty deposit to secure it. Then there will be costs associated with the removal and transport of all your equipment from your old to your new office.
When moving from one office to another, regardless of where you're moving to, there is bound to be a price to pay for any downtime that's necessary during the move. Then there are all the additional associated costs, such as installing telephones, networks, and security systems.
If you are moving to a larger office, you may need to purchase new furniture, additional equipment, and other accessories. Once settled, you may need to update your stationery, your vehicles' branding, and your website, as well as conduct an exercise to inform all stakeholders of your new address contact details.
Another mistake many businesses make before they undertake any move is that they don't keep staff fully informed before a relocation. This may sound obvious, but some companies simply don't keep employees in the loop. Relocating to London, in particular, can have significant repercussions for existing employees in terms of accommodation, commuting costs and even higher prices for incidental living expenses like coffee, lunch and socialising out of office hours. Consulting employees before a move is agreed and then keeping them routinely updated once it's in progress is more likely to keep everyone on-side.
One of the prime reasons for moving to another office is to accommodate new employees if your business is in a growth phase. Moving to the UK's capital presents aspiring businesses with a great opportunity to source talented, innovative team members who can contribute positively to your success. If this is your goal, make sure you advertise your plans to relocate widely and make the announcement as exciting as possible. This will help you attract a considerable pool of applicants and can even boost the morale of your current employees. After all, moving to London is a big upgrade.
It's essential to see for yourself whether a particular space will suit the way your business works. You need to check out the area for amenities and ease of travel to and from the office. Never rely on photos of the space alone – it might not be as desirable when you get there. Consider what visiting clients will think when they approach your prospective new premises – does it fit in with your brand and your vision for the future?
One of the main advantages of moving to London is the host of new opportunities that it presents for your business. But don't assume that these opportunities will just fall into your lap. You still have to put in the work, but the great thing about London is that most of them are within easy reach.
Research new business prospects, seminars, networks, and trade shows that you can visit and mine for information and contacts. Schedule a few things you and your team can do so that you can hit the ground running. London has plenty of hubs and communities – find which ones suit your company's products, services and business style so you can make new connections to help you grow.
Once you've considered all the pros and cons and decided to take the plunge, one of your most important decisions will be which removals firm to use. This is an important consideration for any office relocation, whether you're moving to a different city or just to the building next door. You are putting your business's most important physical assets in the hands of a third party, so you need to be sure of their reliability and expertise.
To do this, firstly, establish whether they're members of the British Association of Removers (BAR). This trade association sets high standards for its members, so a company that can boast BAR credentials is more likely to offer you a reliable, quality service than one that isn't. Secondly, check if they are a member of the Commercial Moving Group (CMG) within BAR.  This assures you the removal company is an office moving specialist and holds BS 8522, the British Standard in commercial moving services.
You should also ask the company you're thinking of hiring for your office relocation in London what other accreditations they have. At a minimum, they should have Occupational Health and Safety Management Systems, Environmental Management Systems, and Quality Management Systems.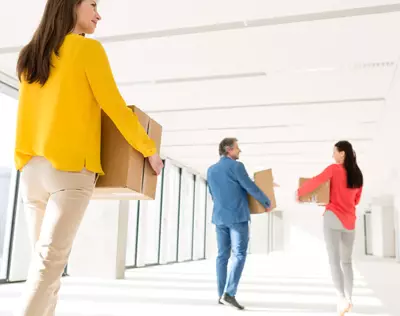 During your planning leading up to the day of the move, keep things organised by assigning a dedicated manager to oversee the job. As the business owner, you'll undoubtedly have plenty of other responsibilities to ensure the business keeps running and income keeps coming in during the move, so make sure you appoint a reliable person in-house to oversee the whole process.
Timing is, of course, everything when planning a move. You should especially avoid timing the physical relocation of your office to clash with any critical schedules and factors that could damage the health of your business, like a major product launch or your busiest time of year in sales terms. Other factors to consider when setting a timescale include the availability of the movers, your landlord's requirements, peak holiday seasons when staff will be on annual leave, and even – perhaps even more important in London than anywhere else – time-based parking restrictions.
Hire A Trustworthy Mover
Altogether, there is a vast checklist of factors to consider when moving a business from one location to another. And that's exactly why choosing a trustworthy office relocation company will prove to be a critical factor in the success or otherwise of your move. A reliable company will not only have the right accreditation and status but will also have demonstrable experience of moving businesses of your size and type into new premises, and can guide you through the project.
Universal Commercial Relocation – Office Relocation London is the right team for the job. We have the expertise, the resources, and the dedication required to move your company quickly, efficiently and safely. With our office relocation services in London, we'll help you plan and execute the move and even follow up after moving day to check everything is as it should be.
Call us now to discuss a relocation project. To learn more about our services, visit our homepage: www.ucr.uk.com.