If you are transferring your office functions to a new location, it pays to consider hiring office relocation companies to complete the move. There are various reasons for an office relocation, from scaling up a growing business to saving money on bills and rent. Whatever your reason for relocating to new premises, there are several factors that you should take into consideration when looking for the right relocation company.
1. Make your moving plans ahead of time
Unlike homeowners, a business cannot move at a moment's notice. Companies require several months of planning or more to ensure they won't encounter problems, or at least minimise difficulties, when moving to a new office location.
Begin your moving plans as early as possible and find the moving company that's best suited to your needs, as opposed to simply settling for one you book at the last minute. Planning is by far the most tedious part of any move, but it's also the most critical if you want everything to run smoothly, so it's essential to work with your relocation company from the early stages.
2. Request for referrals and recommendations
If you are a member of any business associations or groups, it's a good idea to ask your network for their recommendations on the best office removal company. If you can find companies that have moved premises recently, they'll be able to offer reliable recommendations or advise you to stay clear of certain firms if they've had a bad experience.
However, don't necessarily make your decision based solely on the opinion of a single business. Ask as many business owners as you can and use that information to inform your choice from there.
3. Go through reviews on the Internet
If you can't get recommendations from other business owners or have a few recommendations and want to check certain moving firms out in more detail, there is another place where you can get insights – the Internet. Nowadays, companies in almost every industry maintain websites where you can read reviews and testimonials from past customers on the services they have provided. The same is true for office and business relocation companies. Read both positive and negative reviews to find out the pros and cons of each company you are considering hiring.
As well as the companies' own websites, though, you should also read reviews on independent forums, message boards, and other places on the Internet that are not directly within the control of the moving company. This removes the chances of getting one-sided views if the moving company itself has chosen only to display positive reviews on its own website.
4. Interview moving companies
Once you've narrowed down your options, take the time to phone each office relocation company on your list to ask specific questions. Enquire about their length of experience in providing office relocation services, the specific services they offer, the precautions they take to ensure your possessions will be moved safely and without damage, and so on. You can also ask them about the training their employees have undergone and their levels of insurance if something goes wrong, for your peace of mind.
Top Reasons For Relocating
Here are some of the most common reasons companies choose to relocate their offices:
No more space for expansion
A growing office needs physical space for new employees and equipment. If the current office location can no longer be expanded by any means, moving to a new location with larger square footage or better facilities could be the only viable option.
Companies might wish to unite certain parts of their business if they have developed fragmented offices. For example, a company might have its accounting and finance department in one part of a city, while the new marketing department is located somewhere else. The physical distance between the two departments can cause difficulties, especially if employees need to interact or work closely with each other, so a move to join certain parts of the business can work well.
Combining different departments within the same office space can improve the efficiency of employees. It can also save on rental and running costs as it's typically cheaper to run just one site rather than multiple ones.
If a business's current building is outdated and the owner has no plans to renovate or upgrade it, moving to a newer location with better facilities is the most sensible thing to do. This might be applicable if you're looking for a more environmentally friendly, more energy-efficient building, for instance.
Are you looking for the best office relocation company here in the UK? You've come to the right place. Here at Universal Commercial Relocation, we have 35 years of experience working with small and large businesses alike, providing expert office relocation services.
Our employees have the ability, knowledge, and intuition needed to guarantee that your move will proceed as smoothly as possible. We also ensure that your valuable office belongings, fixtures and fitting will be moved safely, protected from any potential damage during the move.
By choosing us, you will work side-by-side with our office relocation specialists to plan and execute your move. If you have any needs that are unique to your business, we will be able to accommodate them efficiently and expertly.
If you have any questions, contact us on 0208 575 1133 or email us at info@ucr.uk.com to discuss your relocation. Alternatively, you can also get in touch using our online contact form.
FREQUENTLY ASKED QUESTIONS
How do you manage an office relocation?
When organising an office relocation, the key is to start as early as possible and know what to prepare:
Assess what your company needs from the move.
Draw up relocation plans for the team.
Set a reasonable budget.
Seek out reliable office relocation firms.
Consult your legal team for advice.
Establish good communications with your colleagues, movers, and other stakeholders.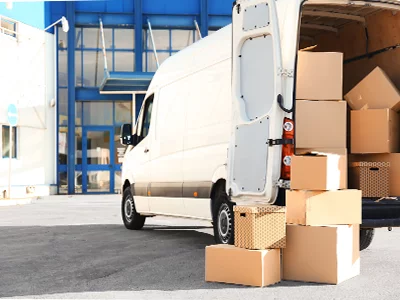 Why do companies relocate?
One key reason for some companies seeking to relocate is a lack of available workforce. Businesses may move to areas with more vibrant labour markets, where more highly qualified workers are available. This is particularly applicable for companies that need employees with specific technical skills.
What is involved in an office move?
Carry out an inventory of the office supplies, furniture, and equipment and decide what needs to move and what can be disposed of. Look for a suitable building for your company's needs now and in the near future; and plan the new office layout before moving. Hire reliable, experienced office movers in London to ensure a faster and smoother relocation.
How long does an office move take?
It very much depends on the size and complexity of your operations. A large office might need six months to a year to fully relocate over separate phases; whereas medium and smaller offices can be relocated in a couple of months, in just one phase if required.
How do I choose a good moving company?
Follow these tips to choose a reliable office relocation company:
Ask for recommendations.
Shortlist three potential companies.
Contact each to ask about their services.
Ask about their professional accreditations, licences, and insurance.
Verify with your local trading standards office whether each company is operating legally.
Choose your preferred company, taking into account budget, timescales, reputation and so on.
How does relocating affect efficiency?
Relocating to a larger working facility with better equipment can help increase the efficiency and productivity of your employees, therefore boosting the efficiency of your business. Over time, that can improve the quality of products or services your company offers to its customers.
Tips For A Smooth Office Relocation
Moving offices can be a taxing affair. However, there are some tips for maximising the efficiency and minimising the stress of the move:
Plan the relocation process as early as possible.
Create a team responsible for the relocation and appoint a project manager.
Communicate your plans to your employees.
Back up your files to protect against potential breaches and losses.
Only bring the essential items from your old office and consider disposing of the rest.
Choose from the best office removal companies to make your relocation more efficient.
Once moved, update your address on your website, social media accounts, etc.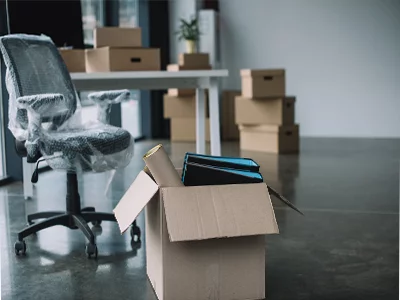 Benefits Of Hiring A Professional Mover
Hiring a professional office mover saves time, money and effort. Here's why:
It makes the relocation process faster and more efficient.
They take charge of the entire process – from planning to moving.
It is more cost-effective than doing everything on your own.
They provide all necessary packing materials.
They have the equipment needed to make the process easier.
You can guarantee that your items are safe and insured in case of damage.
They are dependable professionals who are experts in what they do.
It takes all the stress and pressure of the relocation from your shoulders.
Things To Look Out For When Moving Offices
To help avoid potential chaos during the office move, there are five essential aspects you need to pay close attention to:
The moving plan and budget: Prior to the move, draw up a structured plan, including the allocated budget.
The relocation project team: Build an ad hoc team responsible for overseeing the relocation.
Office moving companies: Hire the best office moving company for the job.
The IT: Make sure all files are backed up before the move.
The employees' responsibilities: Make clear that each person is responsible for moving their own possessions.
The Advantages Of Hiring A Moving Company
Hiring a moving company to help with your relocation may be one of your better decisions as a business owner. Here are some advantages:
Cost-efficient: Aside from providing affordable rates, they can help you plan your move and provide all necessary packaging materials, equipment and moving vans at a fraction of a price.
Free from heavy lifting: The moving company's employees are trained to carry out strenuous work, which prevents your employees from getting injured.
Time-efficient: Movers have tried-and-tested systems for packing, loading, and transporting everything.
Secured items: All equipment is secured and insured, so you can guarantee that even the most delicate items will be protected in transit; and you're covered by insurance if anything does break.
If you're looking for a dependable moving company to help you securely and efficiently carry out a corporate office move, contact Universal Commercial Relocation – Office Relocation London today and ask for a quotation. We have been providing moving solutions since 1978, so you can rest assured that you'll be working with experienced office movers.